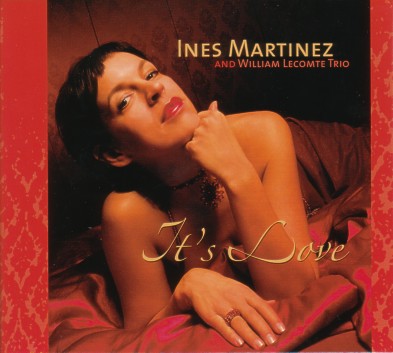 Ines Martinez (voc)
William Lecomte (p,keyb)
Acelino de Paula (b)
Luiz Augusto Cavani (dr)

01. A Beautiful Friendship
02. The Breath
03. Padam Padam
04. Send in the Clowns
05. C'est l'amour
06. Surabaya Johnny
07. Do you know the way to San Jose
08. Sin Espacio
09. Beklaut
10. I wish you love

Direct order at Satin Doll: Shop

You may listen to this album at: jpc.de
---
Ines Martinez & William Lecomte Trio

"It's Love" - the fusion between the singer Ines Martinez and the William Lecomte Trio from Paris is a special delight. The compositions of B. Bacharach, W. Lecomte, K. Weill, I. Martinez or S. Sondheim are arranged by W. Lecomte in an exquisite way.

Within these Chansongs Ines Martinez sings poetically, satirical or with humor about Love in its various facets: as a devotion or the end of a beautiful friendship, as an endless longing or a first prize.

The music combines the German and French Chanson, Jazz and Latinamerican rhythms. With her expressive voice and her sensitive interpretation Ines Martinez developes an intensive relation between lyrics and music, between artists and audience.


---